Background–
Sydney's Share Bike Saga

The presence of share bikes were first reported in Sydney in June 2017, when Singapore-based startup Obike brought their black-and-yellow bicycles to the city's CBD, Inner West, and Eastern Suburbs. Unlike their city-endorsed counterparts in Brisbane and Melbourne, these were a new, dockless generation of rental bikes that had been rapidly spreading across the world, modelled in the spirit of other flourishing ventures in the share economy like Uber and Airbnb. With no need for extra transport infrastructure and the user only requiring a mobile phone to unlock any parked bike, the readily accessible vehicles quickly dotted the cityscape, soon joined by other global and local competitors hoping to cash in on the wave. They were often advocated by their operators as tenets of sustainable and flexible city living.
'
The Future of Transportation
', as oBike optimistically claims.
Unfortunately for Sydneysiders, this wasn't entirely the case, and the bikes became famous not for their 'revolutionary' business model but for being thrown into trees and the like. Furthermore, the dominant discourse in the local media and online had subjected the bikes to a sensational, reductive assessment focused on their widespread misuse, supposed disruption to the urban landscape, and suspicion over the ulterior motives of the influx of six (and counting) operators. For a city that admittedly, is not known for its bicycle culture, and only rides the share bikes for about
0.3 trips per day
, the lowest against a 2-6 trip global average, we seemed particularly besotted with their spectacle; reflected in their proliferation across traditional media and social media through meme, remix and roleplay.
Frankenbike was designed in response to this phenomenon as well as an extended discourse analysis of this local share bike saga undertaken as part of a year long investigation during my honours degree. It is intended as a satire and critique of the actors at play: bike operators, local government, the users, and spectators, and taps into broader concerns that their stay in the city had brought to attention, especially in regards to infrastructure, governance, ownership, and community.
Images of vandalised share bikes are commonly shared on social
media as memes (cr. Sydney Memes Facebook Page 2018)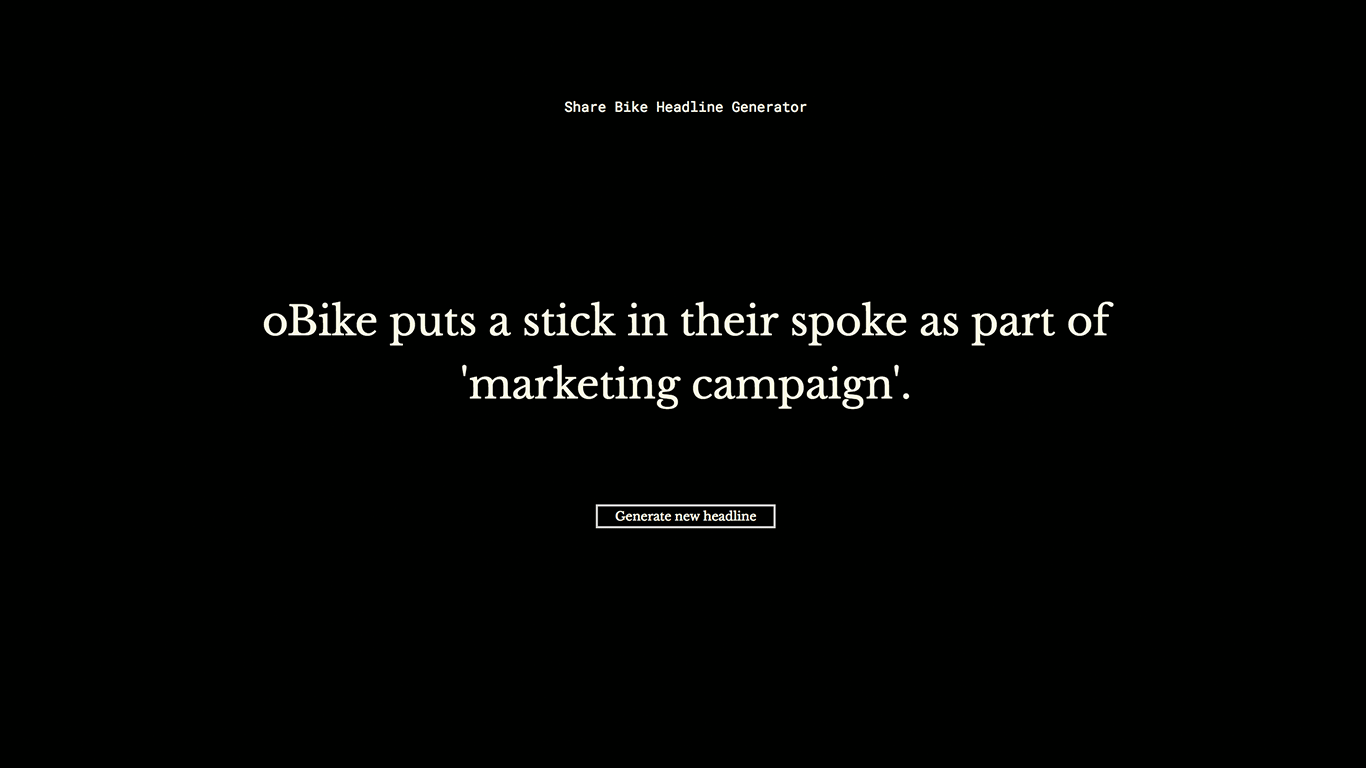 Headlines scraped from Australian media outlets pertaining to share bikes,
then fed through a generator, unveiled their cyclical nature. (cr. Anita Gallagher 2018)
The now-defunct Instagram page Mike The Yellow Bike was one of the numerous ways people had begun
to document the phenomenon's absurdity– in this case roleplaying as the bikes themselves.
In this experiment, I invited my peers to match captions from this account to their corresponding image to test how
the affordances and implicit behavioural norms of social media affected their reading of share bike images.
Mike The Yellow Bike's account was deleted upon the July '18 news of oBike ceasing operations
in Melbourne, despite my small efforts to ask them to stay. (cr. Anita Gallagher 2018)